Foam Roll Recovery For Swimmers – Mesa, AZ
June 26, 2021
@
11:00 am
–
1:00 pm
Have you ever felt frustrated when your body doesn't feel recovered enough for a Championship meet? Instead, you feel drained, tired and worried if "taper will hit."
Swimmer Strength is here to help you recovery smarter to swim faster.
Did you know that we can make our body feel lighter in the water based on what we expose it to on dryland?
Even though so many swimmers carry this simple tool, not many swimmers know how to most effectively use the foam roller to their advantage in the pool.
When deep pressure is put the muscles and the surrounding tissues, tense areas start to loosen, muscles lengthen and blood flow increases. However, it is not as simple as just laying on these things.
Are you curious to explore new ways that is supported my science? No more guessing games.
If you want to eliminate the "coin-toss-feeling" of either having a good or bad Championship, this recovery clinic is for you.
In these 2-hours, you will:
Feel rejuvenate the body to lighter in the water the following week.
Get the best tips to taper on land before your Championships.
Recover the entire body using either your own, or one of our foam rolls.
Potentially expose underlying areas on the body that may need more attention.
Explore how to manipulate your muscles and all surrounding it by your self.

NOT be exposed to movements that will harm you.

NOT be breaking down your body.
Even if you are someone who is a little hesitant about these things, check it out. It might do you some good.
At the very least, you will get one good idea to help move the needle forward.
Capacity: 12 attendees
Swimmer and/or coaches.

First come, first serve.
Early-bird special: $20 discount
Register before May 29th to get your discount!
Location
The Cell Gym: 6343 E Main St UNIT 16, Mesa, AZ 8520
Your Performance Coach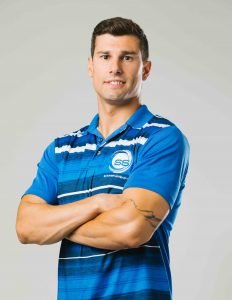 Deniz Hekmati
Founder and head performance coach of Swimmer Strength.
Served as a graduate assistant for the men's and women's swim teams at University of Utah from 2014 to 2017, responsible for strength training.
Helped coach Cesar Cielo in 2013.
Through Swimmer Strength, Deniz has worked with dozens of teams around the world including the U.S., Europe, South America and Asia. Under his oversight, hundreds of swimmers have successfully gone through the Swimmer Strength regimen with positive outcomes and faster swimming.
Silver medalist at Swedish National Championships.
Arizona State Rookie of the Year 2012.
Awarded Top 50 Healthcare Company in 2020-2021.